FAQ
Author: Mike Newman Date Posted:13 May 2020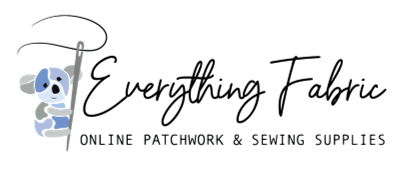 Based on frequently asked questions, we have provided detailed information and guides to ensure an easy ordering process on our website. If you have any questions that may not be answered below, please contact us at sales@everythingfabric.com.au or better still phone us on 0419145604 or 0408724505. We are here most of the time to take your call.
How to order
The EveryThing Fabric shopping cart is 100% secure, so you can purchase online with confidence.
Our cart is very simple to use and will walk you through each step of the transaction as you shop. However, if you are new to using a shopping basket, take a minute to look over the instructions below and familiarise yourself with the procedures.
If you experience any problems or errors, please contact us immediately at sales@everythingfabric.com.au. Alternatively, you can phone us on our Mobiles 0408724505 or 0419145604. We do not have a Landline
Shopping instructions
To begin shopping choose from any of the categories on EveryThing Fabric Product Menu (ie, Fabrics, Notions, Stitchery Kits etc).

Each product has a box and Add To Cart' with the number of items you want.

To add a product to your cart, simply enter the quantity you require from the selection panel and click on the ' add to cart' button.

When adding Bolt Fabric our system is set up for you to order by 25 cm lengths (1/4 of a metre) lengths. This is the minimum order for our bolt fabric. For example, if you want two metres just put add 8 units in the Quantity box. Once a product/s has been added you may continue shopping or click the cart in the top menu button to view it.

At any time during your transaction, you are able to amend your quantities or continue shopping, by simply clicking on the relevant buttons at the bottom of your cart, or choosing from the menu options. To view your cart whilst browsing, simply click on the ' cart contents' link under the shopping cart logo at the top of the page.
Checkout
To proceed to the checkout and pay for your order, click on the 'checkout' button. The Cart button is on the top menu at the end.
If you are a new customer, click on the continue button. If you are an existing customer put in your username and password.
New customers will need to set up an account - fill in your name address and a password.
Delivering information page
If you want the package delivered to a different address click on the "change delivery address" button".
Choose your preferred shipping option by clicking on the corresponding circle. Click the "continue' button.
Payment information page
If you need to change your billing address click "change billing address"
Choose your preferred payment method and enter any relevant details.
When your payment and shipping details have been entered correctly, click on ' continue' button.
Order confirmation page
Please make sure you read the order summary carefully.
When you are happy that the details are correct, click on ' Confirm order' button.
You will receive an e-mail with your order information in it. If you didn't receive the e-mail you have either given us an incorrect e-mail or your order did not go through.
To order by telephone
We are happy to accept phone orders on 0419145604 or +61419145604 if calling from overseas. Please leave your order on the answering machine with your contact number if we are not available to take your call.
I have a question about my order. How can I contact you?
Did you know that if you've created an account with us, you can view your previous orders? After signing in, view the Account page. If you need to contact us, you may call us at 0419145604 (Monday - Friday, 9 am - 6 pm EST) or email us at Email us for an Urgent response or use the contact form on the CONTACT US page.
Payment options
EveryThing Fabric currently accepts payment by Credit Card (Visa, Mastercard, Amex) PayPal, Afterpay (minimum order value $50.00) and Electronic Funds Transfer (Direct Deposit to our Bank Account).
If you have access to online banking with an Australian bank account, you may choose to transfer funds directly into EveryThing Fabric account. Please advise EveryThing Fabric by email or telephone, that you have organised a bank transfer for your order. When stating a reference for the transfer, please use your 'Online Order Number' and your name so that we can recognise your payment.
Bank: Westpac Banking Corporation
Account Name: Mancon Pty Ltd T/AS EveryThing Fabric
Account BSB: 034136
Account Number: 526648
Please Note: EFT must be received by EveryThing Fabric within 7 days as we cannot hold stock.
Is GST included in your prices?
GST is included in our pricing to you.
Shipping & delivery
How much will it cost to ship my order?
We use Australia Post eParcel for both our domestic and international orders, as they are the most cost-effective way of shipping and tracking your order to you.
For domestic orders, this means your order will automatically have tracking by Australia Post's eParcel shipment. You have the choice of standard and express. The rate is calculated on the weight of the package not the cubic so it often pays to combine a number of products to minimise the cost per unit of shipping. This shipping charge is standard across all of the Australian Territories for Parcels under 500 grams. For parcels over 500 grams, the cost varies by the shipping location and the weight of the parcel.
Please note that we do not ship orders via Letter shipping due to losses incurred by theft or mishandling
In all cases, we ship our orders in good faith but cannot be held responsible for parcels that become lost in the mail
Please note that we ship our orders every business day. If your order is placed before 9.00 am it will make those delivery days.
Orders placed after 9:00 am Friday or over a weekend will be shipped on a Monday.
For our U.S. and other overseas customers
We are happy to ship products overseas to where ever AUSPOST ships. We will charge you at our cost. We do not charge handling fees but do charge a Packaging material fee. Some purchases can be oddly sized due to bulk or significantly smaller than fabric purchases ie: needles. We make every effort to keep shipping prices low for our customers, but in some situations, it is unavoidable, especially on overseas airmail.
Returns & exchanges
We want you to be happy with your purchase from our store. Please contact us before placing an order if you have any questions about our products. Please choose carefully as you are not entitled to a refund if you simply change your mind or if the colour isn't what you were after. For Patterns or Craft books we are unable to refund or exchange them to due copyright laws so please choose carefully
If you have a problem
Please contact us immediately and we will endeavour to correct it. Please examine all shipments immediately upon receipt and contact us within seven days of receipt. If defective or incorrect merchandise is received, we will replace them at our cost or organise a refund if a replacement isn't available.
Damaged or missing packages
If you receive goods damaged through transit, it is vital that you keep the damaged packaging that they came in, take a photo and contact us immediately. , without this evidence, there is no proof that your parcel was damaged in transit.
We cannot be held responsible for missing or lost goods as these events are outside of our control. To ensure that your parcel is delivered safely, please check your postal address details very carefully before you confirm the order.
Requesting a refund
If you wish to return an item, you must contact us within 7 days of the initial delivery date. Returns & refunds are not accepted after 7 days of customer receipt. At our discretion, we may accept returns for exchange or refunds provided the goods are in as new condition and we can re-sell them. However, please remember, when returning items, the customer is solely responsible for all shipping costs.
Authorisation
Must be obtained from Everything Fabric, prior to the return of any goods, via email, telephone or facsimile. All returned goods must be in good condition and in the quantity supplied in the original order.
All prices advertised on this website and on our written material are subject to change without notice.
Other general information
Where is your store located and what are your hours?
We are located in Toogoom a suburb of Hervey Bay, Queensland, Australia. We are an online-only store - we are not open to the public. This means we are open 24 hours a day, 7 days a week and you can shop with us from anywhere in the world! If you would like to reach us by phone, we are available from 8 am to 9 pm EST Monday - Friday. We will answer the phone on weekends if home and take orders too :) Our Mobile Numbers are 0419145604 (Michael) and 0408724505 (Carrie)
How do I update my email address and password?
If you have created an account with us, you can update your information by logging into your account and clicking "Update Email Address or Password".
How does a metre compare to a yard of fabric?
1 yard = 91.44 cm = .9144 metres (100 cm = 1 mtr)
I'm about to embark on a big project. How do I know how many metres are available?
If you need to know how much fabric we have of a particular fabric please email us for a prompt response. Many of our suppliers go in and out of stock and discontinue lines based on seasonality and popularity. These quantities are also available on our website
What is a wish list?
A Wish List is a convenient way for you to save a reminder of an item you would like to purchase later or an item that is not currently in stock.
How do I add products to the top of my wish list?
To add an item to your Wish List, view any product you wish to add. Click on the Wish List image to automatically place the item in your Wish List. The Wish List main menu will also provide a link to view all the items in your Wish List.
I'm ready to purchase. How do I move my wish list to my shopping cart?
To move your Wish List items to the Shopping Cart, go to your Wish List page and click the checkbox for each item you wish to move to your cart. Make sure you have the "Move to Cart" button checked, then click the "Continue" button. All checked items will be removed from your list and added to your Shopping Cart.
How do I remove items from my wish list?
To remove items from My Wish List, click the checkbox for each item you wish to delete. Make sure you have the "Delete" button checked, then click the "Continue" button. All checked items will be removed from your list.
Can I show my friends or family what's on my wish list?
Yes. Your Wish List is accessible only by you when you are logged in to your account, and you are the only one that can see it online. However, you can email your wish list to a friend by visiting the Wish List main page, entering your friend's email address into the 'send your wish list to a friend' box and clicking the email envelope. Your friend will receive your complete Wish List along with a message if you wish to add one. They will be able to follow the links in the email to view each item in the Wish List.
Enjoy shopping with us. We sincerely want to make your experience a happy one!
Remember if for any reason you are unhappy with our service or product please ring us. Sometimes things happen where we don't get things quite right but we always want to correct these issues when and where we can!