Buying Guide
Author: Mike Newman Date Posted:10 May 2020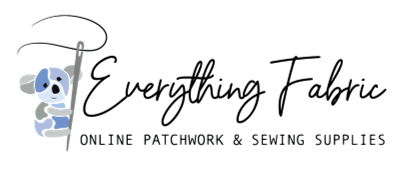 At Everything Fabric we want your online experience to be simple and easy! In fact just as if you were buying in an actual Quilting or Sewing Shop.
Here is some general information that will hopefully make your purchasing just that little bit easier
Most of our Quilting Fabric is sold and priced in increments of .25 metres (25 cm). If you want 1 metre of Fabric you would order 4 for example. There are some fabrics that we sell by the metre. An example of this would be Osnaburg and Quilters Muslin. If there is any confusion over Fabric sizing please call us.

For all non-fabric products, our item of sale is by the Single unit. If this is not the case we would make a notation on the product description

At checkout, we give you a number of options for you to pay for your order.

PayPal Express

Credit card via the STRIPE payment system, You can use Visa, MasterCard and American Express

ZipPay (Minimum $50.00 Order excluding Shipping)

Direct Deposit

If at any time you have problems completing your purchase do not despair!. We are generally available to help you with the process and can walk you through it over the phone. Don't hesitate to give us a ring on 07 41280629 or our Mobiles: Carrie, 0408724505 or Mike 0419145604.