Product Description
The Stripology XL Designed by Gudrun Erla combines all of the features you love in the original Stripology ruler AND the Stripology Squared. This beauty combines the height of the Stripology Squared - so you can square up blocks up to 12-1/2in - with the width of the original Stripology so you can cut up to eight 2-1/2in strips or 14 1-1/2in strips without ever moving the tool, reducing your rotary cutting time by up to 75 percent. The 2½ inch increments are marked with squares; the 1½ inch increments are marked with stars - no math required!

Need to cut in 1/4 inch increments? No problem, just follow the chart included in the instructions and use the 1/4 inch line on the ruler. We have added additional bells and whistles as well. There are 60 degree lines as well as 45's; 1/2in lines; and additional angles to aid in cutting perfect triangles every time.This ruler comes with fully illustrated step by step instructions or watch Gudrun's video tutorial.

The ruler slides easily over the fabric until pressure is applied. Then, our exclusive gripper holds the fabric in place while cutting, eliminating slipping and miss-cuts!

Creative Grids® products are made in the USA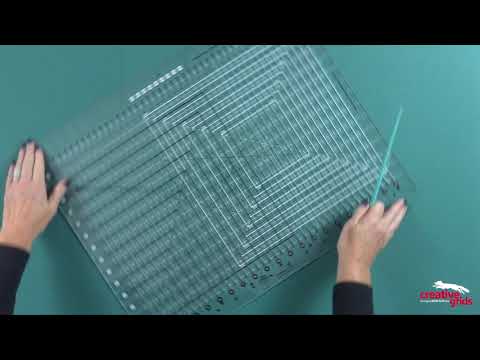 Creative Grids® Stripology XL - CGRGE1XL - YouTube
Video will open in a new window
Using the eBay App? Paste link into a browser window:
[isdntekvideo]
Custom Field
Product Reviews
This ruler has made life so much easier and I love it.

Great product but it would be even better if it was big enough to cut the fabric when folded in half it is a pain having to line up to where you have already cut to go from the selvedge to fold and it is too inaccurate folding the fabric into 4 instead of just folding it in half

Creative Grids Stripology XL ruler.

Best tool Ive bought for quilting. I no longer fear cutting into my beautiful material and making a mistake. Its easy to make an accurate cut. And it saves time .

I had a version of this ruler which was about 30 years old. This is some ruler. Saves a great deal of time and makes trimming squares a dream. If they are not right you are able to see clearly where the error lies. Great for strips and loads of other shapes.

Great idea having the two in one. Have found cutting hard as l have arthritis in my hands but the stripology ruler is so easy to handle.

Creative Grids Stripology XL Ruler

Wow, what a toy! Strips in a flash, as many as you like and then some, everything in reach is in danger of being stripped!! So easy to use, accurate, no slipping, no re-aligning, just cut, cut, cut ... look out stash, here I come!